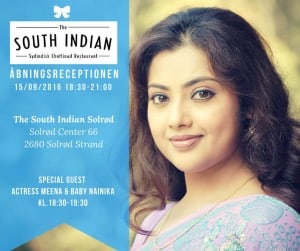 RECEPTION
Kom og vær med, og hjælp os med at fejre åbningen af vores nye restaurant.
The South Indian tager denne gang vores varemærker; kvalitet, service og sund Sydindisk mad udenfor hovedstadsområdet, og åbner i Solrød syd for København. Takke være vores fantastiske og tilfredse kunder, samt støtten fra disse, er det lykkedes os at tilføje endnu et led i vores autentiske Sydindiske kæde.
Vores nye restaurant kan rumme 70 gæster, samt 35 mulige gæster i restaurantens festlokale i kælderen, så endnu flere kan more sig og nyde det klassiske Sydindiske køkken i en autentisk stemning.
Til åbningsreceptionen vil der blive serveret vores Special Snacks, samt Indisk Vin og sodavand, i en hyggelig og festglad stemning.
KENDIS BESØG FRA INDIEN: Det glæder os at offentliggøre, at The South Indians ynglings kunster, nemlig skuespilleren Meena og hendes datter skuespilleren Nainika, vil flyve til Danmark til Åbningen af den nye restaurant. De to er fantastiske skuespiller og rollemodeller, og vi er stolte over deres støtte. Gå ikke glip af festlighederne, og kom ned at fejre det med os.
hvis du er interesseret I at høre mere om den indiske filmskuespiller Mena, så click her -wikipedia link-
https://en.wikipedia.org/wiki/Meena_(actress)
The South Indian Solrød
Solrød Center 66,2680 Solrød Strand
Vi håber at se dig på torsdag mellem 18:30-21:00.
Nandri(நன்றி -Tak )
********************************************************
RECEPTION
Come and join with us, and help us to celebrate the opening of our new restaurant in Solrød.
The South Indian take this time our trademarks; quality, service and healthy South Indian food outside the metropolitan area, and opens in Solrød south of Copenhagen. Thanks to our great and happy customers, as well as support from every corner, we have managed to add another step in our authentic South Indian chain.
Our new restaurant can accommodate 70 guests and 35 possible guests in the restaurant's fest sal in the basement, so that even more will have fun and enjoy the classic South Indian cuisine in an authentic atmosphere.
For the opening reception will be served our Special Snacks, as well as Indian wine and soft drinks in a cozy and festive happy atmosphere.
CELEBRITY VISIT FROM INDIA: We are pleased to announce that The South Indians favorite artist, namely actress Meena and her daughter actress Nainika, will fly to Denmark for the opening of the new restaurant. The two are amazing actor and role models, and we are proud of their support. Do not miss the festivities, and come down to celebrate with us.
The South Indian Solrød
Solrød Center 66.2680 Solrød Strand
We hope to see you on 15th September,Thursday between 18: 30-21: 00
Nandri-நன்றி !